Baumhüter International GmbH decides to use Speed Step's SRM solution (Supplier Relationship Management)
Baumhüter takes another step forward towards the sustainability in their supply chain. As an internationally operating company, Baumhüter International has a great responsibility regarding risk management, social responsibility as well as business ethics.

We need to ensure that our international partners treat human beings and their environment respectfully. The software solutions of Speed Step allow to manage a detailed supplier profile. Furthermore, supplier audits and their results can be managed and documented in a central database. Additionally, we and our supply chain partners present and control coordinated actions in form of a to-do list. An accompanying internal document management allows a complete documentation.
---
Bvba Marfashion makes the decision to use Speed Step's PDM Technology
Marfashion chose the Speed Step PDM Software to optimize its collection development and patterning process. So far, the company has worked with standard applications like e.g. Word and Excel. However, this working method did not only cost a lot of time, but also made the data management and data updates difficult to accomplish. As a consequence, a lack of transparency is unavoidable.

The company was immediately able to recognize and identify themselves with the Speed Step PDM Software. For them, the decisive reason for using our PDM Software is a fashion-focused solution, which comes along with efficient tools. In addition a trouble-free use of our offered products has become a standard norm for us. An integrated workflow and document system ensures the required level of transparency. The ERP-System used by Marfashion was integrated via interface just as Lectra's interface system was also successfully integrated through a provided standard interface.
---
Van Heurck NV buys Speed Step's Design Software Suite
Van Heruck is one of the leading companies in the field of conception and design as well as production and sales in the textile industry. The basis of the company's decision to use our software is an easy handling, a variety of powerful and helpful functions as well as extremely low follow-up costs. Furthermore, the design data can directly be used in the ERP-Application. The reason for this is Speed Step's use of Windows standard file format. We are looking forward to having a long and successful relationship.
---
Natubini GmbH decides to use Speed Step's cloud-based solution offering
Just recently, the Natubini GmbH started using our cloud-based solution, including Speed Step's PDM software and the sales processing module. Moreover, this offer includes powerful integration for the EDI processing, intelligent interfaces for logistics processes, as well as the integration for accounting and financial controlling. We are pleased that Natubini GmbH has decided to use our cloud-based solution offer.
---
HKM Sports Equipment GmbH is optimizing its workflow system
The company has been using our PDM software for a longer period now, but they also wanted to improve their processes within the Supply Chain. Therefore, HKM Sports has decided to use Speed Step's workflow module. The modular structure of our solutions allows a problem-free use of additional modules leading to an optimization of business processes. In conclusion, Speed Step ensures that the transparency during the development and exemplary processes will be increased.
---
The "b!-fashion" Fashion house chooses PDM Software from Speed Step
The improved management of product data as well as transparency during the processes are also significant success factors for smaller design studios. Speed Step's PDM-Cloud-Application offers you all this. Even better, the application is available and ready to use within 1 to 3 business days. We are looking forward to a long term business relationship with Ms. Schmülgen and her team.
---
Versatiles Clothing Company implements Speed Step Design Software Solutions:
Versatiles Clothing Company is the leading manufacturer of cotton knitted hosiery garments in Tirupur, Tamil Nadu. Versatiles decide to use Speed Step's Design application bundle. After comparing different design applications and standard applications like Corel Draw and Adobe Products Versatiles decide for the Speed Step solution. The intuitive and easy to learn user interface and unique functions which are streamlined and focused on fashion design was the key point for this decision. Mr. Manikandan, Managing Director of Versatiles said, "The Speed Step software application is a wonderful tool to support our creative designers in their daily work. It will give us a good change to be faster in our design processes and support us to develop more creative products and present this to our customers."
Speed Step subsidiary in India, located in Coimbatore will provide to this customer the implementation service and the software training.
"We are happy that Versatiles Clothing Company decide for our software solutions", says Mr. Surendran Babu, the Operation Manager and one of the Directors of Speed Step India. More than 1000 companies and education institutions are using Speed Step Design applications. We are looking for a long term cooperation with Versatiles.
---
Article about Speed Step in Apparel Resources Magazine:
http://news.apparelresources.com/events-news/speed-step-enabling-data-management-for-manufacturers/
---
New customer for Design Application
Crony Fashion, Tirupur has purchased Speed Step SKETCH and Speed Step PAINTER licenses at GTE'16 trade fair in New Delhi on February 26, 2016. Crony Fashion will benefit from Speed Step design applications in their new brand development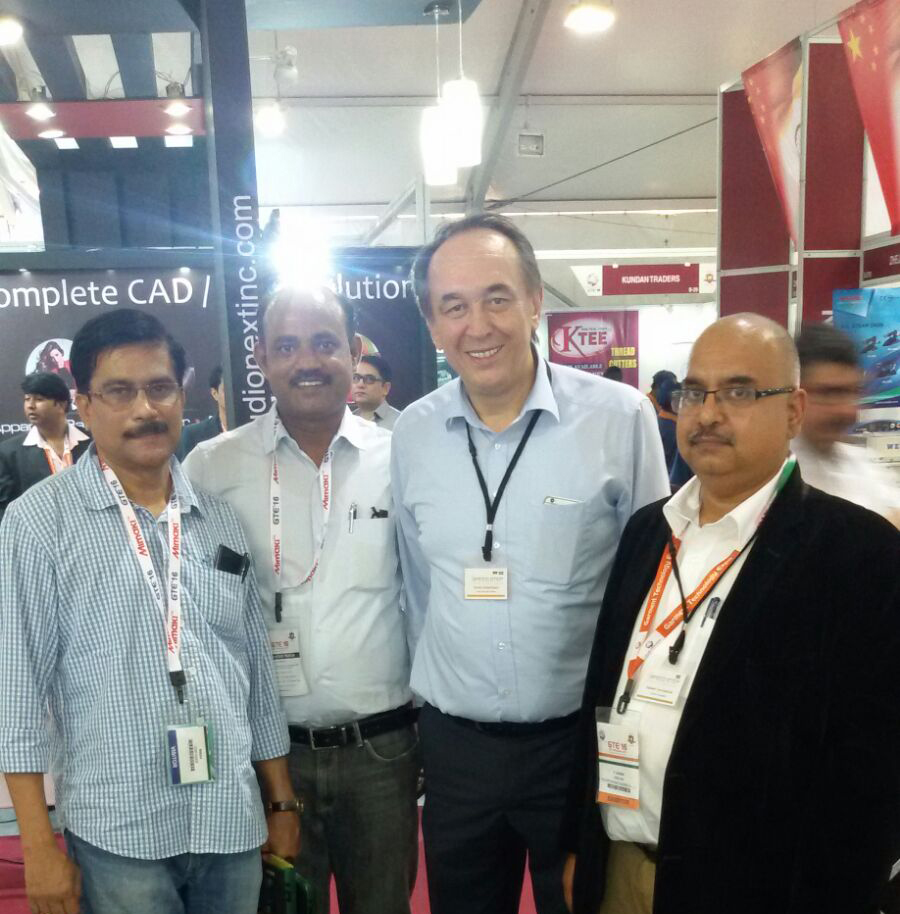 ---