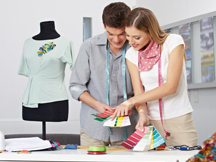 Speed Step's Final Inspection application is designed to help manage inspection processes. With this application you can set-up quality and inspection parameters such as – AQL standards, Defect groups, Inspection tasks, Customer specific defects and partners.
You can plan the inspection processes by creating Inspection Schedules including inspection location, timelines, task lists for each inspection and assign responsibility. Inspection can be performed and results captured. An Inspection Dashboard is provided for clear and transparent inspection control.
Inspection statistics can be generated by consolidating results across various testing groups – such as Garments defects, Packing defects, Visual defects etc. This could be used for confidential supplier evaluation.
Your partners involved in Inspection – such as process partners, auditors, factories – are integrated using internet.
Final Inspection supports following area in the fashion industry:
Wholesaler
Retailers
Production Companies
Agent Office
Merchandiser