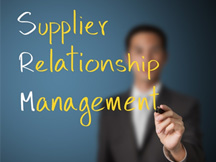 SpeedStep SRM is a modern and powerful software solution to manage the relationships with your suppliers, support the strategic planning and the be the central control of the sourcing process. SRM is an essential part of the supply chain management. You can set-up standard goals and guidelines, enabling objective supplier evaluation.
An integrated solution that collects all data and information in areas such as sourcing, purchase, quality control and logistics. This allows you to continuously evaluate suppliers and production locations.
Use Speed Step SRM for an objective selection of suppliers,to make informed decisions and to achive higher customer satisfaction.
Standard Goals and Guidelines
Manage standard specifications for Packing requirements, transportation requirements, Social complience requirements and process requirements.
Supplier Data
Manage all supplier and contact details
Assign profile templates to Suppliers
Manage supplier profile data
Integrated document management system
Supplier Audits
Management of Supplier Audits
Creation and maintenance of audit reports
Integrated task management to control open issues in auditing.
Supplier Evaluation
Evalute and rate each supplier order.
Quality data from Sample and Final inspections
Supplier audit results
Delivery performace and Quantity reliabality data
Comparison of prices- derived from Purchase and Price inquiries
Interfaces and Integration
Export data into external systems
WEB interface to integrate suppliers and agents
Mobile solutions for creating inspection and audit visit reports.
Import data from external systems using web services
Full integration with Speed Step PLM and, Supply chain and Final inspection systems
Supplier Relationship Management supports following area in the fashion industry:
Wholesaler
Retailers
Production Companies
Agent Office
Merchandiser